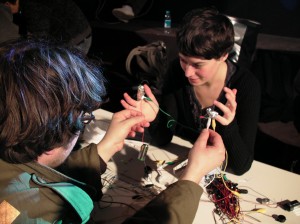 Switch On Switch Off is a workshop on the basics of digital interaction in the physical world.
Participants hack their bodies and their environment, turning them into the switches that activate and inactivate simple electronic circuits.
A team of artists and designers guide them as they try and invent creative interactive gestures.
For beginners and pros
Switch On Switch Off is a interaction workshop for people of all ages, from all backgrounds, including absolute beginners and people who typically shy away from technologies.
The main idea is to keep it simple —  not simplistic.
More advanced practitioners can also get a lot from the simplicity of the workshop, being able to quickly iterate and try things. The constraint of  a very simple building block is in fact liberating, as you concentrate on the gestures and the scenario.
Switching on, switching off our bodies, our friends, our objects to discover the basic principle of interaction.
We focus on the basic principle of opening and closing circuits, just like we use switches at home everyday for turning on and off lights.
This simplicity allow participants to let their imagination run. They can think of anything as a potential switch to open and close their circuit, with direct related or unrelated consequences.
In particular, we encourage the use of body parts as possible interfaces such as hands, nose, lips, heart, eyelashes, etc and we bring the focus of the participants on gestures :  a kiss, a handshake, sitting on a chair, putting a cup back on the table, a hug, etc can all become switches.
With limited material, people start to experiment how they can use what they have immediately at hand (usually their bodies, their friends bodies, their everyday objects) to create interactivity.We love it when it enables encounters and exchanges between participants.
The format is drop-in and informal : during 3 hours, a team of 3 people is available to anyone who stops-by. Within a couple of minutes the person can actively participate.
What participants get out of it
Switch On Switch Off is a playful way to:
understand the notion of interaction
disinhibit one's relationship to technology
stage oneself with others in an interactive scenario
collaborate actively with people from different backgrounds
start to design and prototype an interactive object, gesture or
discover the world of creative DIY electronics
inspire the desire to go further in digital design
If you want to bring this benefits to people around you, you should either take a look at the instructions to organize your own Switch On Switch Off workshop or contact and invite us to organize one for you.
PS: the choice of the drop-in, festival stand format
Switch On Switch Off is an art workshop, based on a profound understanding of the fundamentals of interaction.
Yet it is delivered to the public in a very accessible form: a non-threatening festival stand, where you can drop in at any time, and leave when you are done.
Because we go back to the essence of interaction, we are able to hook any passer-by very quickly, and guide her in her first interactive art experiment in just 15 minutes — of course, some will stay for hours, perfecting their piece.
Based on Dorkbot Paris workshops, Switch On Switch Off is part of a more general vision:  create autonomous, temporary labs for everybody to use and learn; bring the lab culture to the people; get them familiar with interdisciplinary creative process, with prototyping, with sharing knowledge, with an open and inclusive approach to technology.